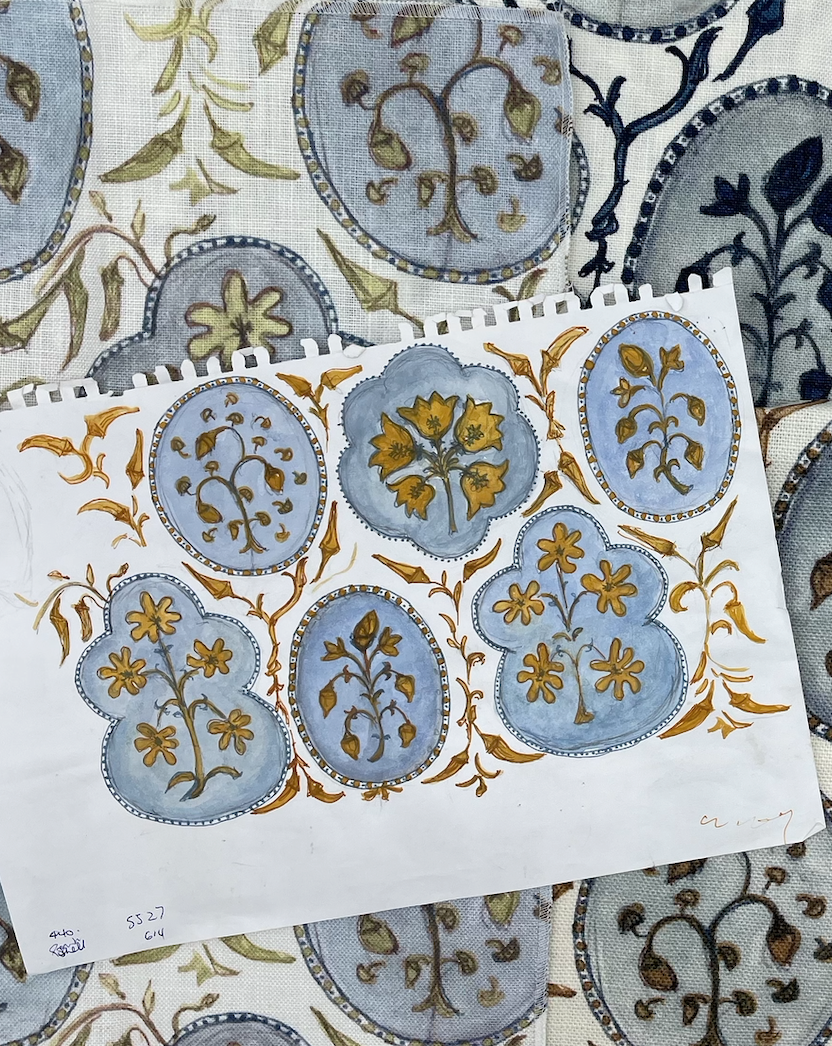 A Hand Painted Aesthetic
Tigger takes on the task of hand-painting a majority of the designs, undergoing numerous iterations to capture the precise perspective that seamlessly translates to printed surfaces—be it fabric or wallpaper. Amidst these hand-painted creations, Tigger breathes new life into historical designs and patterns, skillfully infusing them with a contemporary essence. The meticulous consideration of colours traverses the collection, as Tigger contemplates their origins and their harmonisation with the wellsprings of inspiration, whether it's the rich indigo shades of India or the vibrant primaries of Sweden. Once the designs and foundational colours align, collaboration with our digital printing partner ensues. This partnership refines scale, repetition, and colour variations, culminating in a fabric collection that exudes both cohesion and complimentary allure.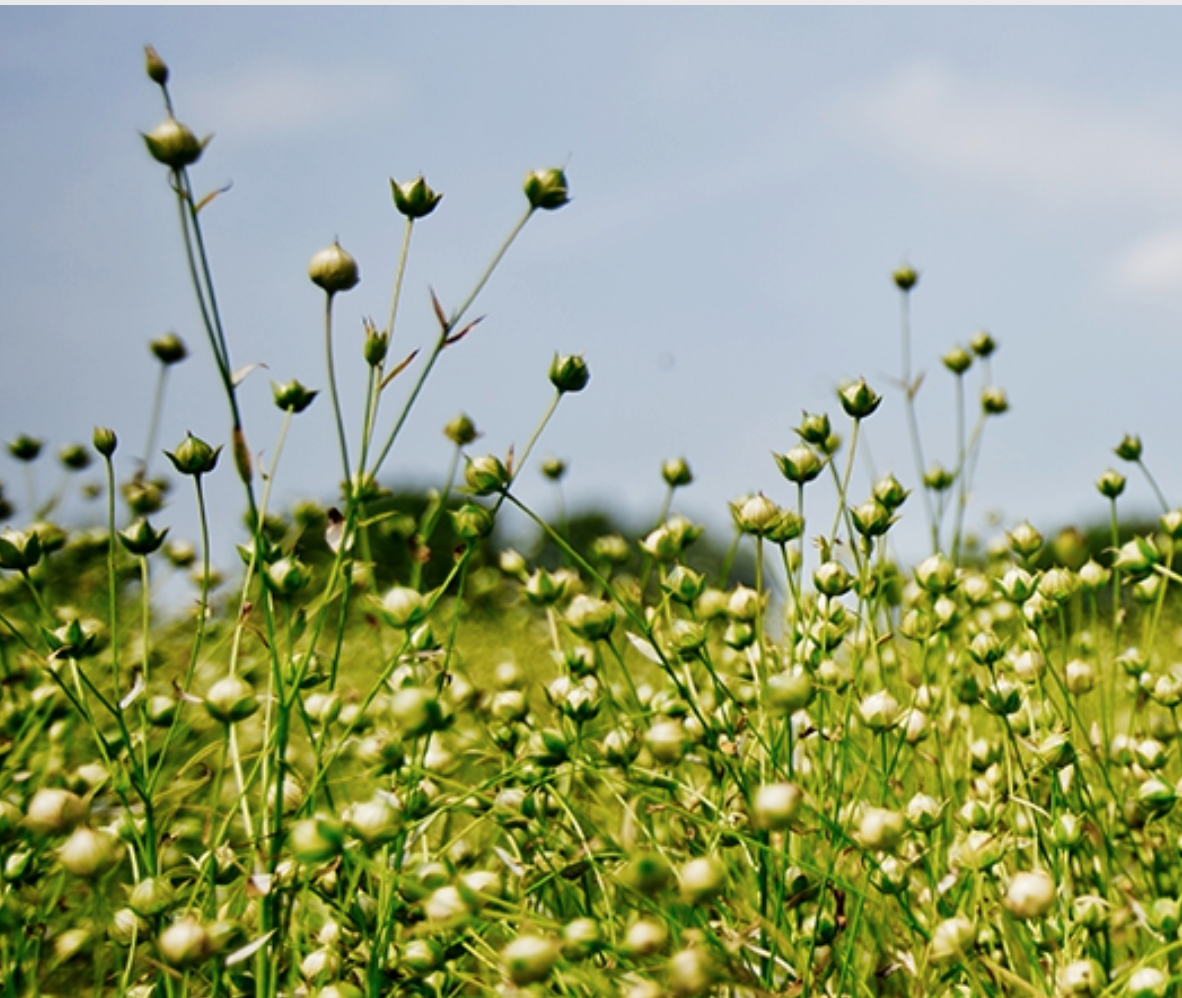 Base Materials
The Nine Muses Collection uses an array of high quality and natural base cloths, with Belgian linen from the distinguished Libeco taking centre stage. Libeco stands as a cornerstone among European linen weaving mills, deriving its prime flax from the fertile soils of northern France, Belgium, and the Netherlands, all enjoying a temperate North Sea climate. With roots tracing back to 1858, Libeco's lineage has nurtured expertise passed down through generations. Guided by a meticulous production process, the linen undergoes an array of treatments, encompassing washing, bleaching, dyeing, and special finishes. The inherent colour of linen varies due to sun exposure and soil conditions during growth. This colour consistency is rigorously verified across the fabric's breadth and length under different lighting conditions, ensuring a uniform appearance.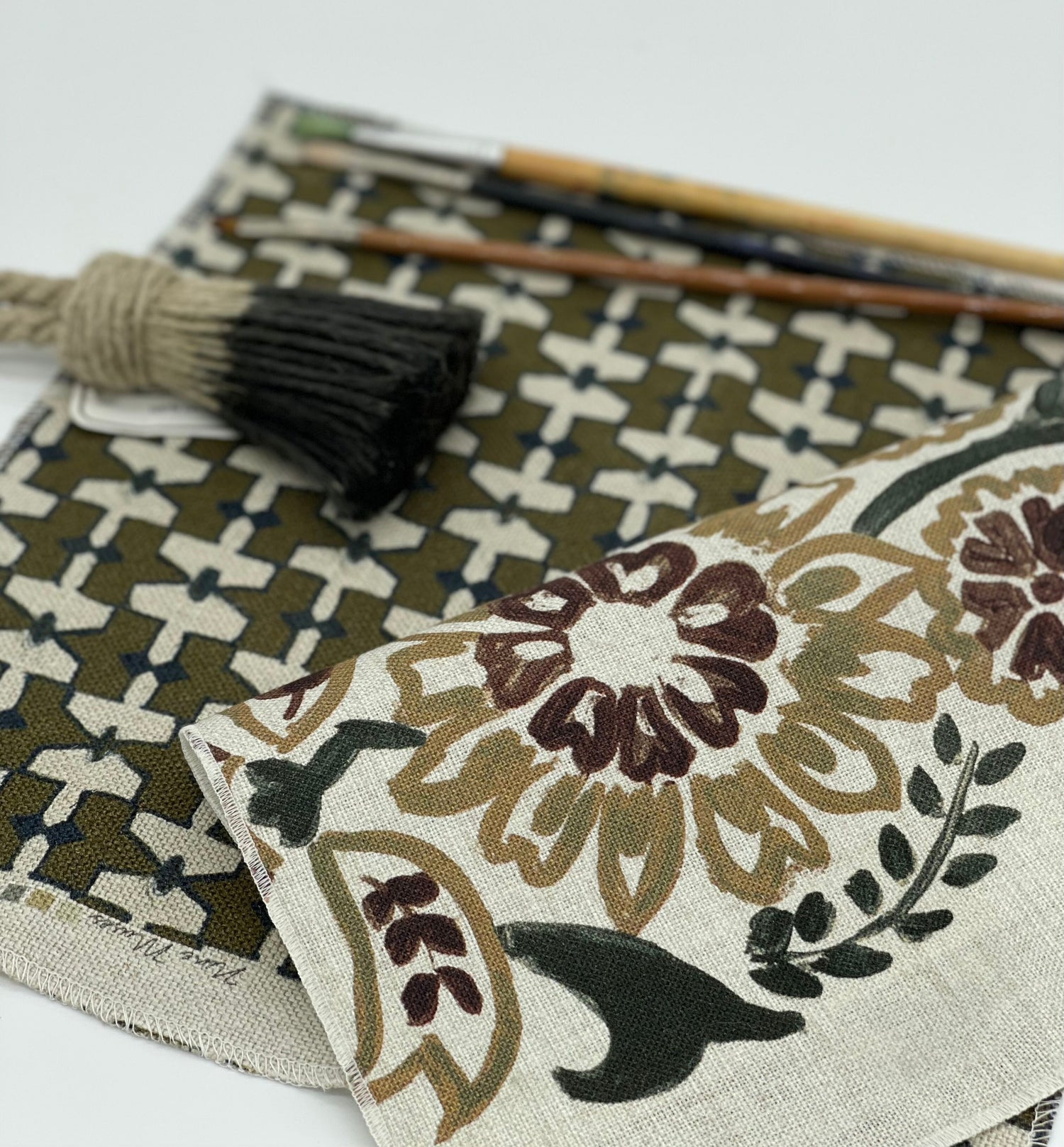 The Printing Process
The collection is printed on chosen natural base cloths, each thoughtfully paired with its respective design. Printing occurs using direct-to-fabric machines with advanced head technology and water-based reactive dyes, adhering to eco-friendly practices. The entire process, from pre-coating the fabric to printing, steaming, and finishing, is conducted in Sydney, Australia. The base fabric is carefully selected for top-tier quality, devoid of nap or loose fibres that might impact the final output. This pragmatic approach ensures that every item in the collection upholds the highest standards of quality and visual appeal.
Our Wallpapers
Milton & King produce our surface printed wallpapers with meticulous precision. We've curated a selection that features best sellers and harmonises seamlessly with the entire Nine Muses collection. These wallpapers are crafted using non-woven paper, a blend of synthetic fibres and mixed pulp. This composition lends the material durability and user-friendliness. The synthetic fibres originate from recycled sources like PET bottles, while the pulp hails from FSC-certified forests. Our wallpaper collection employs 'Paste-the-wall' technology, featuring a backing infused with 'non-woven' or polyester fibres. This ensures dimensional stability, preventing expansion when wet. Installation is expedited as the paper is hung dry, eliminating paste tables, soaking time, and simplifying cutting around switches and sockets. The dimensional stability also minimises bubbling, creasing, or curling, making it a beginner-friendly choice for paperhanging.